As I've been hyping up Die Antwoord's new album for nearly 4 months now, the wait is over. You can purchase it via iTunes or do what I'm going to do and buy a vinyl. Ten$ion has 13 tracks and a few humorous skits. Ninja, Yo-landi and DJ Hi-Tek weren't messing around when composing this album, because they marketed it in the best of ways—subliminal messages and mystery.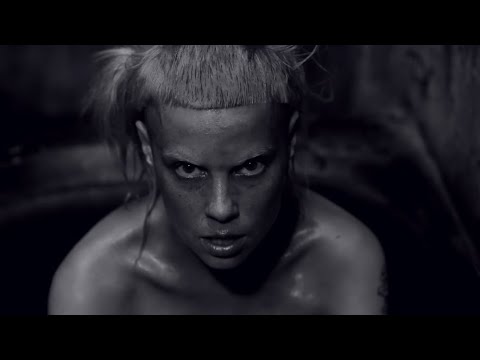 It drove me crazy that all they would post was random pictures of themselves in New York, but no music. Just teasing Zef Heads was the right way to do it. So now they give us Ten$ion, their 2nd album that's rave, rap, and witch-friendly. To be honest, I actually think this group will develop their own genre. Or is that because they're from the Suida Afrika and we Americanos just don't know? You judge for yourself.
Stream Only:
Die Antwoord
– Baby's On Fire
Die Antwoord shows a lot of patriotism in this album and all the sounds they use are just their own. I hear dubstep wobbles, Mario bleeps all the way up to hard style horns. If you like dance, witch, or hip-hop music this album should be easy to listen to and even more tempting to buy.
Stream Only:
Die Antwoord
– Fatty Boom Boom
"You Make a Ninja Wanna Fuck" is very club trappy. I predict this style of music to be the next trend to pop off. Especially what Araabmuzik did to dance music; this fits the same regime.
10 U Make a Ninja Wanna Fuck
Stream Only:
Die Antwoord
– U Make a Ninja Wanna Fuck
"Never Le Nkemise 2" is by far my favorite tune of this whole album, because Ninja gives you his whole entire perspective about South Africa and then all these crazy snyths, kicks, and pads explode. Then it's your job to fill in your own perceptions of the sound.
Stream Only:
Die Antwoord
– Never Le Nkemise 2
In the future these two will both do solo albums. That's what's next; peep tour dates below and see me at the LA show.
DIE ANTWOORD – 2012 TOUR DATES
02.09.12 – Philadelphia, PA – Trocadero Theatre
02.10.12 – Boston, MA – Paradise Rock Club
02.11.12 – New York, NY – Irving Plaza
o2.14.12 – Toronto, ON – The Phoenix Concert Theatre
02.19.12 – Vancouver, BC – Commodore Ballroom
02.22.12 – San Francisco, CA – The Regency Ballroom
02.24.12 – Los Angeles, CA – Club Nokia
02.25.12 – Las Vegas, NV – House of Blues
03.03.12 – Bisbane, Australia – Doomben Racecourse (Future Music Festival)
03.04.12 – Perth, Australia – Arena Joondalup (Future Music Festival)
03.10.12 – Sydney, Australia – Royal Randwick Racecourse (Future Music Festival)
03.11.12 – Melbourne, Australia – Flemington Racecourse (Future Music Festival)
03.12.12 – Adelaide, Australia – Ellis Park (Future Music Festival)
The following two tabs change content below.
LA-BAY https://twitter.com/#!/Croydon666 http://www.facebook.com/croydonearmilk http://soundcloud.com/croydon http://croydon.tumblr.com/
Latest posts by Jeff Lourenço (see all)
Comments
comments