A pseudo-countdown of top picks and underrated favourites, this year's crate of tracks have never been so contradictory. With dance music shedding its latest claim to fame, the base has gone to the drawing board to define, create, and take the road less traveled by. Things got a little weird, but regardless of the differences in tempo and groove, it all sort of made sense as it represented a common approach of making it for the work and not the pay check. There's no set formula, no sample pack, no plugin with a preset to land you a spot and that makes the milk all the more satisfying. Loose experimentation at the bottom with careful considerations for the top, this list is about the sound not the hype. Making sure that you go into the new year without missing a well curated beat.
---
Blawan
#50. 6 To 6 Lick (Original Mix): Black Sun
While there are a handful of producers in our list who have brought producing to an elevated state, Blawan is miles ahead in his ability to create something outside the realm of anything we've heard before. While "6 to 6" may sound like a scattered, ketamine induced jam session, there's no doubt that every texture is methodically planned out.
---
Simian Mobile Disco
#49. Cerulean (Original Mix): Wichita

Many producers struggle to look outside of a 4 bar box, Simian Mobile Disco manages to take us on a 7 minute journey of random soundscapes without a hint of what's coming next.  The video, a modern take on Sesame Street's counting clips and designed by ISO studios, could be one of the year's best.
---
ZZT
#48. Work (Gingy & Bordello Remix): Turbo Recordings
Gingy & Bordello strip this ZZT remix down to its bare bones... and those bones are a Roland System 100 saw wave that could cut through a diamond. G&B go to work chopping up the sample while their signature open hi hats mesh the experimentation into something a dance floor can get behind.
---
Truss
#47. Hackney (Original Mix): Perc Trax

The spread of the digital drum machine has made 2013 the year of the blown out kick drum and served as the backdrop for much of Truss's MPIA3 catalogue. White noise hats add a metallic feel to this robot jam.
---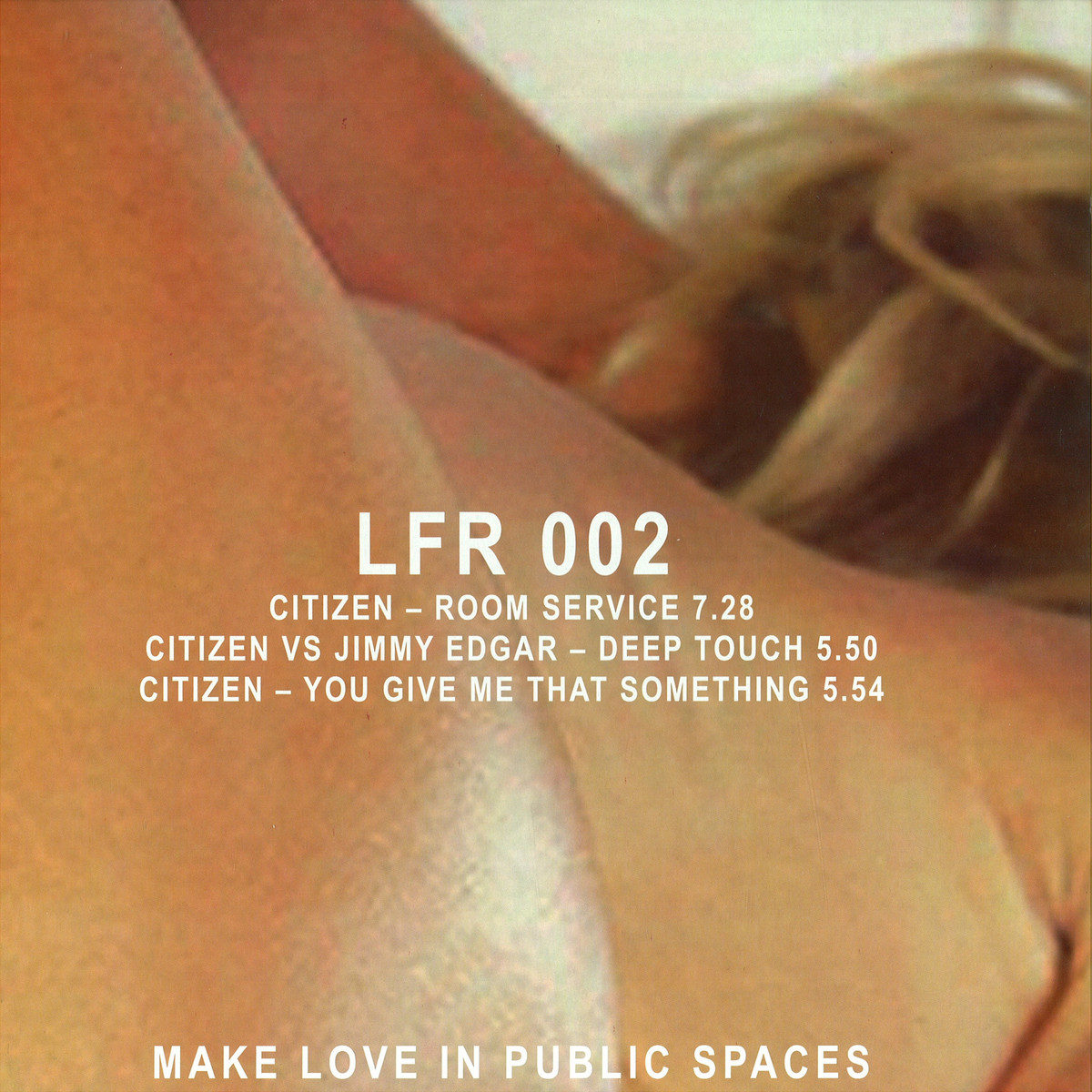 Citizen
#46. Room Service (Original Mix): Love Fever

London party hosts Love Fever are off to an impeccable start with their first two label releases being Bicep's "$tripper" and Citizen's "Room Service". The same could be said for Citizen as this warehouse jam is a worthy follow-up to his debut on Kerri Chandler's MadTech.

Citizen

- Room Service - LFR002

(07:25)
---
Jokers Of The Scene
#45. Organized Zounds (Cosmic Kids): Fool's Gold

Maybe one of the most overlooked tracks of the year.  The filter automation on this track is just crazy.  That space disco warmth is so difficult to achieve and is the reason why artists like the Cosmic Kids alongside Com Truise, Todd Terje and Oliver to name a few, are miles ahead of their peers.
---
Hackman & Tessela
#44. Feel Like Loving Me (Original Mix): Audio Culture

The paring of Hackman's moody, soul inspired techno with Tessela's LFO driven mid 130's wobble made for a great paring.  More often than not collaboration projects crash and burn due to the rush of knocking out a project over a weekend, "Feel Like Loving Me" is a definite exception to that trend.
---
BareSkin
#43. Eyes (Original Mix): Hypercolour
This baby-faced newcomer from the U.K is one of our favorite noobs of 2012.  While the simple FM bassline is a little thin and the Disclosure-like pitched up vocals have been done to death the song is so infectious and we'll assume that Hypercolour's lo-fi mastering job was done for aethstetics.

---
Untold
#42. Little Things Like That (Original Mix): Clone Basement Series

The reason we don't usually bother getting into doing too much of a label ranking is because no one is really touching Clone.  The Hemlock head honcho brings his signature bass to a jackin' warehouse jam full of open filter stabs.  Released in late '11, it missed last year's cutoff by a week.
---
Clouds
#41. Consciousness (Randomer Remix): Turbo Recordings

With so many labels using the remix as a tool to drive sales, many artists are forgoing the remix. Turbo Recordings is one of the few imprints that have managed to cultivate artists that genuinely put forth a new perspective on the original.  The frantic synth line that Randomer comes up with in "Consciousness" is bonkers.
---
That wraps up part 6 in our ongoing 100 track series. Keep an eye out as we unravel the rest of our crate into the new year and grab what you missed off Beatport, Boomkat, and Juno.
Part 1. EARMILK Crates 100 Dance Tracks from 2012 [100-91]
Part 2. EARMILK Crates 100 Dance Tracks from 2012 [90-81]
Part 3. EARMILK Crates 100 Dance Tracks from 2012 [80-71]
Part 4. EARMILK Crates 100 Dance Tracks from 2012 [70-61]
Part 5. EARMILK Crates 100 Dance Tracks from 2012 [60-51]
Part 6. EARMILK Crates 100 Dance Tracks from 2012 [50-41]
Part 7. EARMILK Crates 100 Dance Tracks from 2012 [40-31]
Part 8. EARMILK Crates 100 Dance Tracks from 2012 [30-21]