There's always one message an artist is trying to convey when releasing original music and sometimes the message is obvious, however sometimes it can be difficult to distinct what's actually coming across. Backed by Skrillex lead OWSLA Records, the UK bred powerhouse Icarus drops their new Steal the Sun EP, striking a balance between coherence and the unexpected. Their message reflects the ability to balance the diversity within their influences, and it's apparent in "Slither", a synth infested house anthem lit up by the vocals of Ethan James. Complex percussion and and a dark bass line place a definitive sound on Icarus, worthy of any UK Garage or techno enthusiast's library. The EP is up for purchase now via OWSLA Records, as well as "Slither"  download on the OWSLA official Soundcloud. There are no tour dates nor extensive info for Icarus yet, but I'm sure we will be seeing them on a much larger scale by next year with OWSLA constantly on a tear.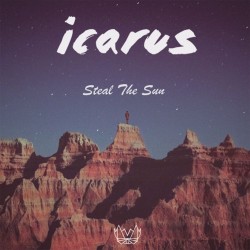 Icarus
Slither
OWSLA Records
October 10, 2013
The following two tabs change content below.
Its all in the hips baby, its all in the hips. I love me some good, lyrical hip-hop, as well as some synth rock or pop. Throw in some nu-disco and a hefty dose of funk and you got a Ders cocktail.
Latest posts by John Saunders (see all)
Comments
comments